Best rental cars in Minsk
We offer best cars to rent with the wide price range. For example:
ALL PRICES
How to rent auto
and our advantages

HOW TO GET QUOTE
Choose car on that website
Conclude an agreement
Get high level service
ALSO YOU CAN GET
Photo
Free car decoration
Guide for excursions
OUR FEATURES
Best car appearance of interior
English-speaking drivers
Сourteous staff
Our news
Stay informed for auto rent sales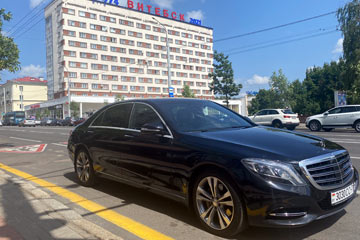 Our cars at the Slavianski Bazaar in Vitebsk
01.01.1970
VIP Mercedes car at the Slavianski Bazaar in Vitebsk
Читать далее
Our company offers the following services:
Transport services;
A bus rental for weddings, corporate and children's parties;
Airport and railway station transfers ;
Tour organization;
Commercial travels.
We can't guarantee a solution of all your problems, but you can be sure that you'll receive high quality services, favourable terms and excellent mood.
Our company offers passenger transportation services via Minsk, the Minsk Region and Belarus. We're constantly improving our services. Unlike other companies we organize passenger transportation in any direction: via Minsk, Belarus and to any city of the Minsk Region. Our company's car fleet is quite diverse to satisfy any customers' needs: from minivans and minibuses to large intercity buses equipped with everything: air conditioning, DVD, seat belts and microphone. We organize sightseeing tours to the remarkable Belarusian places with professional guides and interpreters.